Ron talks of the motor minesweeper (or' Mickey Mouses'" as they were often nicknamed), and the colourful characters of her crew
. ..."out of the five vessels that I served on, without a doubt this was the most enjoyable ship in my service with the Royal Naval Patrol Service"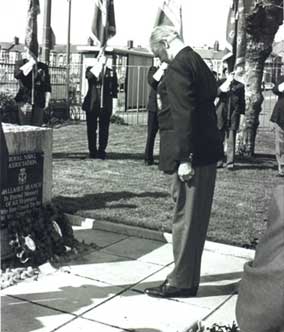 Ron Balashaw at the Memorial Stone RNA Wallasey, Merseyside

On Easter Saturday in 1943 I joined the MMS 220 after 2 months on board a trawler in Portsmouth. I was taken off the trawler and sent to the MMS 220 as relief for a fellow named Sid or Stan Revel who came from Norwich. He was going back to Lowestoft to be rated up. In those days you got rated from Stoker 1 provided you passed your exams, as simple as they were, you were promoted up to Engineman but you had to have had 12 months at least as Stoker 1 before they rated you up, unless you had a trade certificate. Now that's how I came to be sent to the MMS 220 and out of the 5 vessels that I served on, without a doubt this was the most enjoyable ship in my service with the Royal Naval Patrol Service.
We were destined to go down to Poole in Dorset on Easter Monday to start sweeping out of Boscombe, half way to the Needles then on down to Weymouth and Portland. The trip out was a Brahma, there was a force 8 blowing and that was my first real experience of a bad storm, and the MMS could really twist, turn and roll on the high waves. Show them a bottle of milk and they would roll, but she was a cracking ship to be on and what a crew. Strangely enough I can remember the names of the majority of the crew, and where they came from.

To start with, Bill Blowers the Skipper, he was very nice chap and I believe he was a salesman before the war and came from Lowestoft. The 'Jimmy' was an Australian and I didn't have much time for him. He wasn't a very well liked man and I can't remember his name, probably because we didn't like him. The coxswain was named Steve Cowie and Steve, like his mate Tex Brennan came from Sunderland. The Chief Petty Officer Engineman was Willie Young and he was a Scotsman and came from somewhere up the East Coast of Scotland and married a girl from Birkenhead. (I'll tell you a story about him later on). The second in command in the engine room was Nobby Clark and he came from Southend. One never played cards with Nobby Clark as he would never shuffle or deal the cards when he was playing a game of solo with you. He could shuffle the deck of cards out and could have a hand of 12 or 13 of one suit in his own hand; a bit of a magician was our Nobby. The cook was Dick Richardson. Before the war he was a chef in the L.M.S. North Western Hotels at one of the big stations in Manchester. The Officers steward was a little fella' from the Isle-of-Man, a funny little fella' and a nasty tempered little bugger and I will tell you a story about him later. Bert Hall was one of the Wireman and Jimmy MacDonald was the Stoker 1 on board and came from just outside Glasgow. Jimmy Macteer was the Stoker 2 and came from Milngavie just north of Glasgow. Another Wireman was Fred and he was a nice quiet, well-educated sort of chap from North London and the Bunting Tosser was Harold Cookson from Hesketh Bank just south of Preston. Down aft in the seamen's mess was Tex Brennan, Tommy Edgar, Dougy Hyland who was the 'Guns', Harry Mitchell an Able Seaman, Billy Griffin, Seaman and Wally Squires. This completes the whole crew of the MMS 220. There were tales to be told about the majority of the crew onboard.

Harry Mitchell, he was on the helm one day when we were out, there was a force 4 to 5 blowing and the 'Jimmy' was on the bridge. He had given a course to steer and with the 'Mickey Mouses', if you had any experiences with them, they could swing 4 or 5 degrees both ways, and still keep coming on to you're elected course. On this particular day we were swinging a bit and 'The Jimmy' shouted down from the bridge, "Helmsman, what the bloody hell do you think you are doing, what the hell are you steering?"
'Mitch', a typical cockney said. "What the hell do you think I am driving in, a bloody bus?"
With that, 'The Jimmy' went deadly quiet and left it alone.

Harry Mitchell was a good lad. I couldn't dance a step when I went aboard that ship and Harry said to me one day, as we had been ashore the night before and I was lamenting the fact that I couldn't dance, he said. "I'll teach you to dance." He was a good dancer and in port there wasn't a great deal of room on the Mickey Mouses, as you can understand if you went aboard them. Harry said. "Now, you come with me and walk a straight line without wavering I will teach you to dance." He taught me to dance and I don't think I've done very badly over the years dancing and it was all down to Harry Mitchell.

Dougy Hyland, another nice lad who came from South London. He was the 'Guns' on board, and the Mickey Mouses initially had Strip Lewis' on the bridge and the .5 Hodgkiss power operated abaft. This gun was operated with one of the spare hands, maybe the chief or the cook or whoever during an engagement. Once we had been stood too outside Boscombe harbour when two German fighter bombers came over, and I was operating one of the wing guns. When we got back into port and the guns were secured, Dougy Hyland was going round checking everything and the Skipper shouted. "Guns secured? Guns." "Aye, Guns secured sir." and with that someone pressed the trigger on one of the Strip Lewis' and as they dropped with the butt down and with the muzzle pointing up in the air, a burst of rounds went out. Everybody ducked and I have never seen the quayside of Poole harbour clear so fast as it cleared that day. Needless to say, whoever it was on the guns hadn't locked off and he got a right rollicking. It wasn't me incidentally.

Billy Griffin lost his little finger due to an argument with a wire strop. Jimmy Macteer the first two segments of his index finger chopped off whilst he was greasing a pump in the engine room. Funnily enough we were out at sea on each occasion. We had to stick it together till we got back into port, as things happened in these days, we had no accident and emergency to go to.

The Wireman Bert was a nuisance at times. We were in port one day and he had become particularly obnoxious to the engine room Stoker because he considered himself to be superior to the Stokers. We had to adjust the stern gland down in the same compartment as his batteries were. There I had a bit of an accident and dropped a spanner. It flew right across towards the batteries, Bert Hall started shouting at me and was on his horse again, I told him to 'button his oar'. In those days I would have buttoned it for him but I just walked away. Later on, we were all swimming in Poole harbour and he was at it again, so a couple of us nudged him over the side of the ship and as he hit the water he was screaming.
"I can't bloody well swim, I can't bloody well swim."
So the two of us who had nudged him, jumped in after him and brought him out. We didn't have much trouble with Bert after that incident.

Down in the forward messdeck one night, there was a bit of an altercation between the Steward and the Chief. The Steward was extremely inebriated and he picked a knife up and was going to stick it in the Chief. As I was sat between them and when he came level with me I gave him an almighty punch in the guts and he just dropped to the deck. We got hold of him and threw him on his bunk where he went out like a light. Next morning he remembered nothing about it. We reported nothing to 'The Old Man' of the incident but I think he should have been told and the Steward put ashore as he was a bloody menace due to his drinking.

The Bunting Tosser, what a 'fella'. He nearly got caught running through a park after a night out in Bournemouth as he had missed the last train and the last bus. We had been out together and got split up as we both had girls on our arms. On the way back to the ship, I was walking through the park when there's Bunts galloping and blowing for tugs. When he got alongside me I stopped as I thought it was funny seeing this bloke running and then I recognised him. after he had been drinking. "What's up mate?" says I. He says, "Hell, her husband came home and he is after me." I could hear somebody else coming so I said, "Get in the bushes, I'm fresh, I'll take him on," so I ran on and coming into Poole, I was well ahead of this bloke, then I ran smack into a Bobby and he said. "Aye, aye lad, what's the rush?" I said, "For Christ sake, don't stop me now, there's a fella' on my tail and I think he's got a gun. I think he has got his rifle with him." So he said, "What have you been up to." "Nothing really," I said. So he shoved me down the side of the Gasworks and I could hear him talking to this fella' that was chasing Bunts, so after a short time he said. "Okay, you can come up now." As I came up, the Bunting Tosser was coming round the corner and says. "What's all the fuss about?" I thought, you cheeky bugger Harry. But that was Harry and at any rate, we got back to the ship okay. Harry always said that when the war was over he'd look for me and I'd look for him and we would go to New Zealand together. And why would we go to New Zealand together? He said, "He liked the idea of the Kiwi blacking and Kiwi brown boot polish, it must be good out there." But it never came to happen.

Tommy Edgar, a very nice bloke was Tom. When I went on board he was interested to find out that I was from Birkenhead as he was from Liverpool. He was a fair bit older than I was, and must have been well into his 30s. He said, "Behave yourself son and we'll get along together." However, on our first run out of Portsmouth, I was so revoltingly seasick, that when we got into Poole harbour I said, "That's it, I'm off." and I was set to hop it with a mate of mine Billy Griffin. We decided that we were away, we were deserting. Tommy Edgar got hold of the pair of us and said, "In you go, back on board, now bloody well behave yourself. If you go, you'll get picked up and then you will be in more trouble than you can possibly imagine." He took us under his wing, and he had hands like a bunch of bananas. He used to play the piano in pubs and played the box accordion on board the ship, though he had never taken a lesson in his life. How he could pick the notes out when playing with hands like that, I will never know. He was a great guy but one of the biggest regrets of my life is that Tom lived in Liverpool and many years later I decided to try and catch up with him. He lived in the shadow of Anfield football stadium and I rang around a number of Edgar's and finally got in touch with a young chap with the name of Edgar and told him I was looking for a Tommy Edgar, a bricklayer. He replied, "Who are you?" So I told him that I sailed with him on the minesweepers and I live in Birkenhead and I am trying to contact him. He said, "You are 6 months too late, Tom died 6 months ago."

The crew of the MMS 220 were the greatest bunch of blokes except for the odd one or two. Wally Squires was about 5 foot tall and weighed about 120 pounds soaking wet. When we were bringing in the sweep, the Mickey Mouses had a great big crank handle each side of the drum, and we used to have to crank it in. Because I was the spare hand stoker, I always had to wind with him. I was a reasonably big strong lad in those days.Once Wally Squires was crying and sobbing, "I hate this job." and I said, "Stop your crying you little git, your not putting any weight into it at all." I was doing all the work, and his hands got very sore. He didn't look big enough to be away from his mothers' apron strings.

On one occasion while we were in Poole, Willie Young the Chief stoker had to go to the palace to get a medal, that had been awarded to him for his actions on another Mickey Mouse that had sunk. Willie was a 'rum rat'; he would sup rum out of anything at all. 'The Old Man' said, "Now lets get Chief Petty Officer Young nice and smart for the palace. We want him neat, clean, shaved, hair cut and his No.1's on." So we all got stuck in, the Steward steam pressed his No. 1's and ironed his white shirt and he was ready for the palace. Then the Skipper said, "Right, four of you, he has to be on the train from Poole harbour and I want you to escort him to the platform and stay there till the train leaves with him on it and if he gets off the train I will have your gut." As it happened, all went well, but the Skipper was fearful that he would go to the nearest alehouse, have a few pints and miss his train and the visit to the palace. Anyway, he went to London and when he came back he regaled us of his visit.

Now talking of rum, I wasn't old enough to draw a 'tot' when I was on board the Mickeys but I never went one day without a tot. I never came home on leave or a weekend without my little drop in a bottle. Those who were drawing they're rum used to see to it that I got a tot. In fact Jimmy MacDonald who was a churchgoer, didn't smoke or drink or swear and he would sacrifice his 3d a day for not taking his rum and they would throw it into the 'rum fanny'. He would draw his cigarettes and share them out with the lads. I used to take them but would give him what 'nutty' I got as he would save it up to take home to his mother, as I think she was a widow.

Unfortunately, I had to leave the MMS 220 and was put on draft back to Lowestoft. On the way back to Lowestoft I got to Liverpool Street Station and I met a matelot on the platform and got talking. He asked me where I was going so I told him and he said he was going there also. He said his girlfriend lives there and brought out some photographs. Not thinking, I said, "I know her, she's a smashing girl. She knocks about with Pauline Jeffreys and Mabel Hutchinson. I knew them when I was doing my training." He bridled a bit and I didn't think anything more of it at the time. I never saw that bloke again until 1976 on the first reunion that I attended at Lowestoft, and who should it be? He came up to me and said, "I know you." And I said, "I know your face too." And he was Ron Berry, the Chairman. He reminded me of the day that we met and he told me how he nearly punched me and I informed him that it would have been the last punch he would have thrown!. We have remained friends now for many years. But I digress.

I got back to Lowestoft and I was put on a course, then drafted out to the MMS 280 as a Stoker1. I later became Leading Stoker as the rank had come in by then and they were instigating the RN before going on to Engineman. The Skipper was a Scotsman named Hannah and the only others I can remember were the Chief Engineman, he was from Hull and George Emmett from Leicester, he was the PO Engineman. George and I became quite friendly whilst aboard and the Officers Steward, Chris Clark, came from Blythe in Northumberland.

We set off out of Portland early one morning and were all talking about D-Day; then one day it came. I know there was sweeping going on before D-Day because the MMS 280 was involved in it. This was all going on only a couple of nights before, and how 'Jerry' never knew that our ships doing this, I don't know. Maybe because we were on very low revs, their Radar must have been duff because the first night we got there it was very quiet and the second night was D-Day though the weather at the time was pretty rough for sweeping. However, we did the inshore sweeps and that was it. After a while we were up and down the coast and went into Le Harve and sailed over something that was blocking the harbour. It proved to be a barge and when we got inside the harbour the Skipper reported it. We then had to go to Newhaven and we went up the river where the bottom had to be examined for damage. I drew a watch, which to this day I contend that I should never have had because I was on continual engine room duty down below. The Chief and Coxswain on board were a pair of 'twits'. The Coxswain came to me and told me I was doing the 04:00 to 06:00 watch on deck. I told him I was in the engine room and I didn't think it was right. He said he would see the Chief but the Chief hadn't the guts to see the Skipper to tell the Coxswain not to take his Stokers out of the Engine room and put them on deck watch as he had seamen to do that. We had a rough time that day and on the watch I went into the galley, sat down and fell asleep. Next thing I knew, Chris Clark, the Skippers Steward came in and said, "Hey Stokes, have you called the old man?" I replied, "Oh god no, what time is it?" He said, "Its 7 o' clock." I should have called him at quarter to six. So I went and banged on the wardroom door. "Good morning Sir, its five past seven." Then he hit the roof. "Who was on deck watch?" "I was." "I will see you later" He got up and I didn't know at the time, but I was sickening with something that nearly killed me. We cast off and his ETA was given for Newhaven and to make up lost time he took short cuts crossing over the ends of minefields that we should have skirted. Eventually we entered Newhaven and tied up alongside and the 'dockies' and the Officer in charge of sweepers came on board and sent the first watch ashore on leave for about 10 to 14 days. The Skipper said, "I am going on leave and I will deal with you when I return." The Chief told me that I could be in a lot of trouble and I told him that it wasn't my fault because he wouldn't stand up for me, then he hit the roof. When the Skipper went on leave, one of the wise guys on the ship said not to worry about it as he had the opportunity to put me on a charge before he left and by the time he returns it will probably be too late.

When the leave was over I got to feeling rough. The Skipper sent for the Steward and told him that there were some things he had at Portland. He gave warrants for the train and told him to go there and collect his things and any other signals that was there for him and take him with you, meaning me. Anyway, we got to Weymouth and as I was walking along I collapsed to the ground and woke up in the RNH in Portland. After a few weeks, I came out and was supplanted with another Stoker on board the MMS 280 and all my kit was sent up, and held in the Boscowan, which was the base. This was when I went to the Surgeon commander and he sent me home for 14 days. He told me to go along to the pay office and get your ration allowance. When I got to the pay office, I will always remember this. The Lieutenant pay officer said "Money, you want money?" I said, "I don't have any, Sir." He replied, "I'm not responsible for your insolvency's." I told him I was going on sick leave. So he said, "Okay, go on sick leave." I then went to the Master-at-Arms at Boscowan and told him what happened. He then told me to go back to the RNH, see the Surgeon Commander and relate to him what had happened. He got in touch with the Pay Office and when I returned to the Pay Office again and I received 3 weeks money, bearing in mind that we hadn't had anything for months.

After the 2 weeks leave and getting back, I found that I had been made up to Leading Stoker. I was hanging around Boscowan for a while when the drafting officer grabbed me and said, "I've got a job for you to do Leading Stoker." I said, "Yes sir, what is it?" "There is an MFV lying tied up, you will crew it for a while, so get your gear and away you go." When I got down to the MFV, I met a Welsh leading hand Coxswain and I said to him, "I am your Engineman." and he said it was fine, and that there was also an OD. I checked the engine, water, oil etc and we victualled up for our trip, which would be to Margate, along the south coast. We had difficulty in navigating, not because of the equipment, but because there were only 3 of us on board and we needed to sleep sometime. When we got to Shoreham on our first night we found some buoys in the harbour and tied up on one. Next thing we find is a motor launch charging out to us and some 'Hooray Henry' with a handlebar moustache and in RAF uniform shouting at us. "You can't stop here, what the devil do you think you are doing?" Taffy said we were staying the night, and Hooray said he would have us moved by morning and so we were off again. It was a fair old trip for an MFV from Portland to Margate. We dodged the Goodwin Sands and got to Margate on the 4th day and when we got to the port office we were greeted with, "Where the hell have you been? You could sail round the world with the time it has taken you to get here." We got our gear off and went back to Portland where I got a draft to Lowestoft, St Lukes. Eventually, I was given a draft to the Far East, but after a medical, which found that I had had an infection with diesel oil, that put the blocks on the draft. This also meant that I couldn't get back to sea again which also meant that I couldn't get the PO's rating. Two things then happened. The transport officer found out that I had a driving license and told me that in a few days I would be rated up to PO and he wanted me down at the transport pool. But meanwhile, I had put in an application to go into the Regulating branch, which was accepted and this is what I did as a Petty Officer.

I knew who hung the Wren's knickers up the Jack-staff and later who put the toilet up the Jack-staff. My lips are sealed. I was demobed shortly after my stay at Lowestoft.
Ron Balshaw
Nick Clark &copy2000